Even though it feels like I spent most of my time exploring my new faith in 2022, I also got a lot of other things done. I released software, wrote books, started a new online identity, studied music and languages, traveled, interacted with my family and improved my health.
My ongoing remake of Tale of Tales' first game, The Endless Forest, saw three releases this year: an alpha and two beta's. That's right: the game is in beta stage now, which means that, after five years of work, the remake is complete, barring bugs and errors.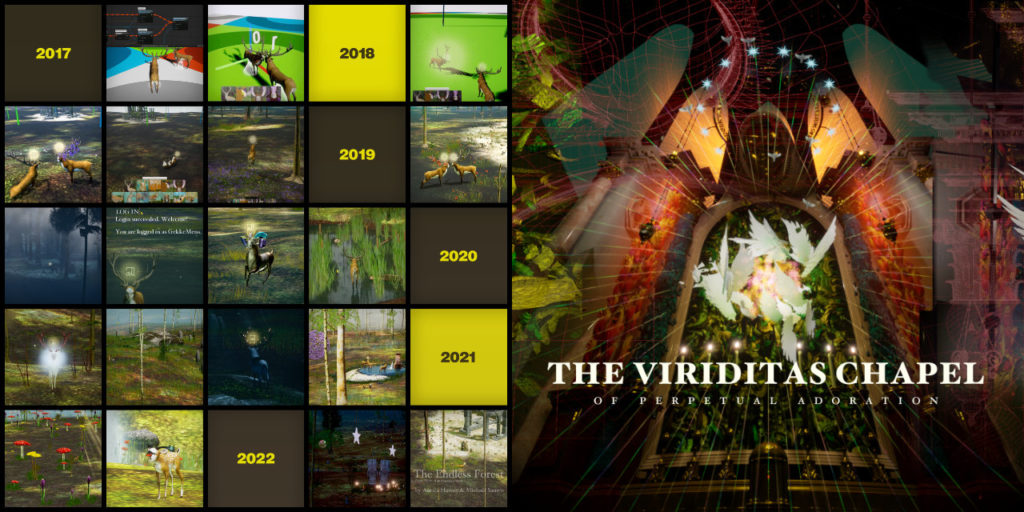 I also created a new virtual reality piece called The Viriditas Chapel of Perpetual Adoration for our other ongoing project Cathedral-in-the-Clouds, the website of which I revamped for the occasion. And I launched my own personal website. I haven't had a personal website since 1999, when Zuper! merged with Entropy8. New Twitter and Instagram accounts accompany this new online identity. Although I'm not very active on social media.
I made two books. Ex-Atheist is a series of confrontations of my thoughts on many subjects before and after my conversion to Catholicism. Some of these were published during advent. And Weekends in Gent is a book I made for my children with notes I had taken when they were young. I gave them a hard copy for Christmas.

In the beginning of 2022 I had serious doubts about playing music because I could not manage to free up the time required to reach the technical level I desired. But, also thanks to playing together with other people, I gradually accepted to just do what I can. This actually helped to improve my technique and culminated in a concert in January 2023. I also started studying a new instrument. Next to the viola da gamba, I'm trying to learn the cello. My guitars, however, have been a bit lonely this year.

I continued to study Italian, especially through online video conversations with two teachers. But I also read a bunch of Italian books. And I have started learning Latin too, to help me figure out what all those texts mean on buildings here in Rome and said during mass.
In total I spent almost three months alone this year as my partner traveled for work. On some of these occasions I visited my home country of Belgium to see my family. But we also traveled to Belgium together (for Christmas), and to Venice, Palermo, Firenze and even the nearby Eur, which we had never seen in person. All but one of these trips were made by train, which can be quite an adventure!

My daughter visited us in Rome in the beginning of the year. And we swapped houses with her mother in the summer. During an unexpected trip to Belgium because of a death in the family, I had the pleasant experience of reconnecting with several cousins. My son caught Covid on his birthday, my mother in summer and I soon after, in spite of three vaccinations. Hopefully that's over now.

I continued Alexander technique lessons, this year finally without a face mask. Next to not smoking, not drinking alcohol and eating very little meat, this year I have stopped drinking coffee and quit watching pornography. I did manage to get a nasty cut in my thumb after it got caught between the front door and its frame. Going to bed early, getting up early and napping in the afternoon has been the perfect rhythm for me that I will continue in 2023.