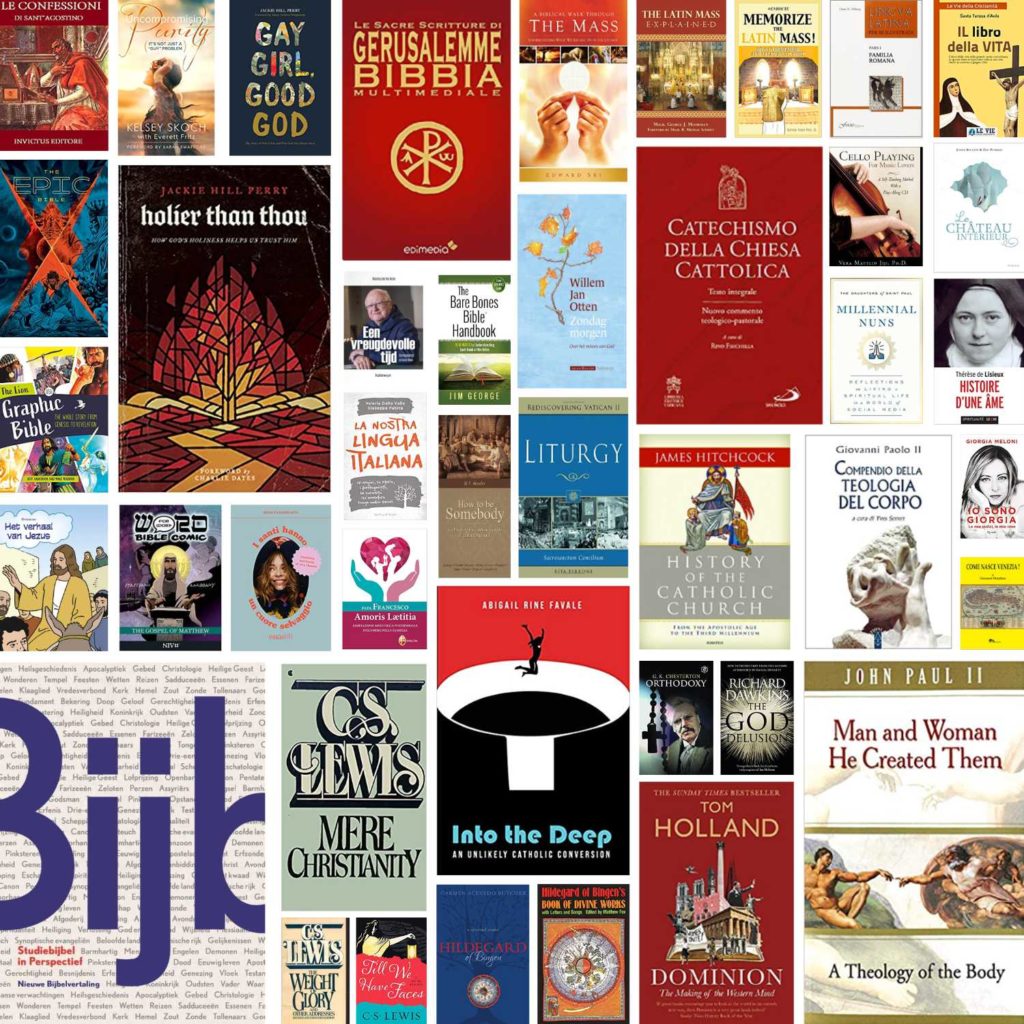 I'm always thinking that I don't read enough but I was pleasantly surprised after lining up all the books that I have read this year. Granted some of them I had started in the previous year and others I haven't finished yet, but still I'm pleased with myself.
Since 2022 was my first full year as a Christian, it comes as no surprise that the large majority of these books are related to religion. I even read some bibles in comic strip form to see if they might be suitable to share the story with less enthusiastic readers. But of course I read in the regular Bible too. Preceded by The Bare Bones Bible Handbook which gave me an overview. Then I combined a recent Dutch translation (my mother tongue) with extended commentaries, with the Italian translation, reading backwards starting at Apocalypse in order to read the Old Testament with the New in mind. But that will be for next year. I also read quite a bit of the Catholic Catechism, and commentaries, also in Italian.
After reading Jackie Hill Perry's autobiographic conversion story in Gay Girl Good God, I read her Holier Than Thou, which really helped me understand our relationship with God and sort of forced me on my knees in front of His majesty. But it was Abigail Favale's conversion story and especially her theologic reflections in Into the Deep that made me appreciate the profound beauty of the Catholic concept of Christianity, especially in the way in which it provides answers to many issues in contemporary secular culture.
After attending Tridentine Mass I started investigating what the mass was all about. And I even began learning Latin because it frustrated me that I couldn't understand the gospel readings. And I read up on Vatican II to learn what some American schismatic fantasies were all about.
I "read" C.S. Lewis's Mere Christianity by listening to the excellent CSLewisDoodle on YouTube and Chesterton's Orthodoxy in a similar way. And I listened to the Daughters of Saint Paul podcast which lead met to their bundle Millennial Nuns about how a very diverse bunch of women decided to devote their lives to Christ. I also used the Hallow app a lot, for instance to listen to the autobiography of Thérèse de Lisieux read by the beautifully moving voice of sister Orianne Petra Rene.
I realize now that I my old preference for female authors doesn't seem to have changed. Next to the writers mentioned above, I also read Therese of Avila's Vita and many different things by Hildegard von Bingen. I also read the first book by a very young author from my new home country, Rosa Evangelista, whose youthful enthusiasm for the catholic faith is infectious and at time hilarious. Even the text book for my new instrument, the cello, was written by a woman. And I read the first chapters of Giorgia Meloni's autobiography to understand a little better where our new prime minister is coming from.
But I've been charmed by male authors too. The new bishop of my former home town of Ghent had a lot of interesting things to say about lent. Ages ago I had read a book by Willem Jan Otten about pornography and it turns out that he has converted to Catholicism, not an obvious choice for a Dutchman. I enjoyed his book about not attending mass during the Covid lockdowns. And then of course there's the great Tom Holland. After watching hours of him talking about how even atheist Westerners are essentially Christian, I started reading his history of Christianity called Dominion.
The most important discovery for me this year has been the writings of Pope John Paul II. Since before my conversion I had lead a life filled with porn and fornication and now I wanted to marry for the church, I felt a great need to educate myself on love and sex. John Paul's Theology of the Body is giving me wonderful insights in the centrality of the body in Catholicism and the sacredness of love.
I tried to read The God Delusion by Richard Dawkins to see if he could offer any good arguments why I should not live this beautiful Christian life that brings me so much joy. But I didn't get far into the book because it started with attacks on people and their ideas rather than sharing his own convictions.